Welcome to Image Auto Collision,
the official body shop for Image Honda, Queenston on Centennial and Queenston on the Mountain. We specialize in import and domestic automotive repairs. We do our best to help guide you through what is usually an unpleasant experience.
As our customer, you will receive the finest quality repairs available from veteran technicians who have repaired virtually all types of damage. From the first day, we are ready to answer any questions concerning estimates or the progress of your vehicle.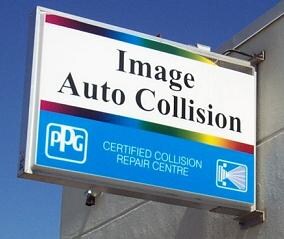 You will be assisted by our professional staff in dealing with your Insurance company.
Our training and years of experience assures you quality repairs with your satisfaction first. New technology means, new training. We retrain with job clinics, factory schools, video tapes and custom designed in-house training programs to ensure that we do the best job possible

.
Our Bodyshop is certified with the CertifiedFirst Network
www.certifiedfirst.com
Image Auto Collision offers;

Pick-up/Drop-off VIP service
Seniors Discounts
Free Shuttle service
24 HR towing service

Rental vehicles arranged